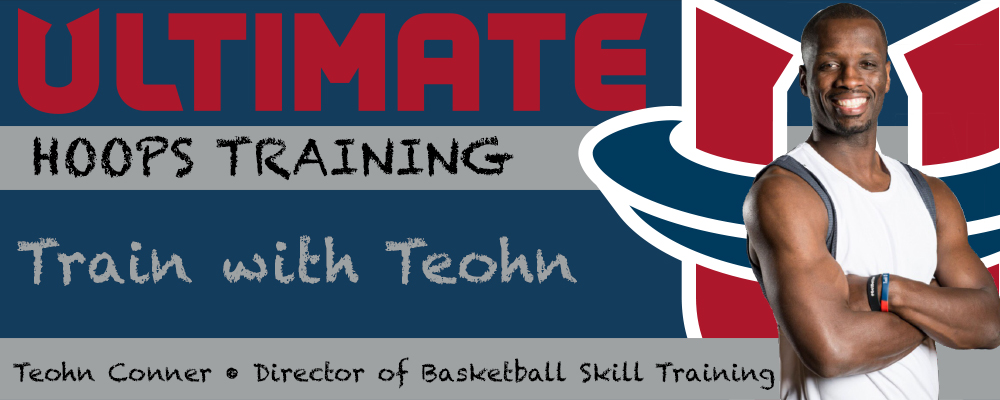 ---
ULTIMATE HOOPS TRAINING
---
Watch the video below to hear more about what Ultimate Hoops Training Involves, what people think about our Director of Basketball Training, Teohn Conner and also to learn about what Teohn expects out of players in a session.
---
---
ULTIMATE HOOPS TRAINING

Enroll in our ULTIMATE HOOPS TRAINING sessions and our coaches will help you perfect your skills. Our ULTIMATE HOOPS TRAINING allows you to develop your skills in a small group and focused environment, leading to exponential gains in your game!

VIEW THE SCHEDULE (View only)
​

Skills developed will include:

Ball handling
Footwork
Finishing
Shooting
Transition attacks
Basketball IQ
Defense

REGISTER ONLINE

ULTIMATE HOOPS TRAINING PACKAGES* (Small Group Classes):

16 Session Pass: $576 (Save $224)
12 Session Pass: $444 (Save $156)
8 Session Pass: $310 (Save $90)
5 Session Pass: $200 (Save $50)
3 Session Pass: $135 (Save $15)
Single Session: $50

FINDING THE RIGHT CLASS/SKILL LEVEL:

We offer four different classes/skill levels to help you partner up with players who are similar to you. Those levels are:

Advanced/Intermediate: For middle school aged players and less advanced high school players. Also open to players grades 3-5 (players will be grouped together by age ability)
Advanced/High School: For High School/College players or very advanced younger players.
High School Only: Limited to High School aged players
Adult: For adults looking for a fun way to stay in shape and/or refine their game.
College/Pro: For College and Professional Players Only**

**College/Pro Sessions are $25 per session if purchased individually or $20 per session if purchased in a package of 5.

​DATES AND TIMES:Daily sessions available. Exact times vary by day. Open to Boys and Girls!​Click here and register/sign in to see our daily schedule.

---

---

INDIVIDUAL HOOPS TRAININGLooking for a more private environment? We also offer private 1-on-1 training for clients. In this individual session, it will be just you and the trainer for a 60-minutes of instruction.INDIVIDUAL HOOPS TRAINING PACKAGES*:

Single Session: $100
3 Session Pass: $270 ($90/session)
5 Session Pass: $400 ($80/session)

NOTE: INDIVIDUAL HOOPS TRAINING SESSIONS ARE NOT AVAILABLE FOR PURCHASE ONLINE. TO PURCHASE PLEASE CALL OR VISIT US IN PERSON.

Need help enrolling online or setting up an account?

Click here

for instructions.

*All Hoops Training packages are non refundable and may not be shared between players. Players enrolled in classes that do not cancel at least two hours prior to the start of class will be billed for the session. All hoops training packages purchased after 1/15/17 expire 1 year from the date of purchase, unless otherwise noted.

VIDEO OF A TYPICAL
​ULTIMATE HOOPS TRAINING SESSION

---

---

ULTMATE GRIND AWARD

We know that putting in extra work can be a "GRIND" at times, so we have established a monthly "Ultimate Grind Award".

This award is given to any players who complete an average of two Ultimate Hoops Training sessions a week during any given month.