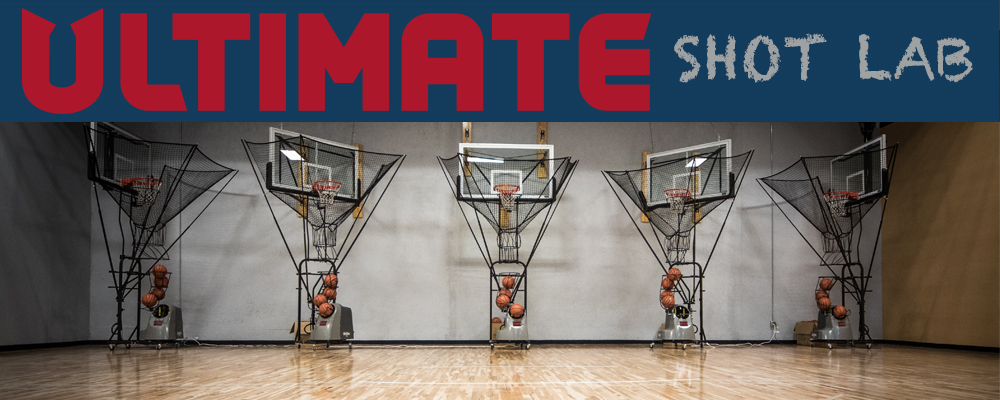 GET 500 SHOTS UP IN JUST 30 MINUTES!
SHOOTING MACHINE RENTALS
Take advantage of our Ultimate Shot Lab and use one of our 5 shooting machines to work on your shot. Our shooting machines allow you to maximize the number of repetitions by rebounding and passing the ball for you! Just like the machines the NBA and NCAA teams use!

A 30 minute shooting machine session yields approximately 500 shots!

---
---
SHOOTING MACHINE PRICING AND MEMBERSHIP OPTIONS
---
UNLIMITED MEMBERSHIPS

Unlimited 1-year membership: $475 (just $4.57 per session if you come 2x/week)
Unlimited 6-month membership: $375 (just $5.76 per session if you come 2x/week)
Unlimited 1-month membership: $100 (just $12.50 per session if you come 2x/week)

---

SAVE BIG WITH AN UNLIMITED MEMBERSHIP

If you like to work on your game and are intent on becoming a great shooter, our Unlimited Shooting Machine memberships are a must! Memberships allow you to shoot as often as you need (see our recommended guide below), for as low as $4.57 per session!

COST COMPARISON. SHOOT 2x/WEEK FOR A YEAR

Members pay: $475 ($4.57 per session)
Non members pay: $1,560 ($15 per session)

As a member, the more you shoot the more you save...If you shoot 4x a week, you pay just $2.17 a session!

See some of the membership terms below.

---

SINGLE SESSION PRICING

30 Minute Session: $15
15 Minute Session: $10 (walk in only)

TO BE GREAT, YOU HAVE TO SHOOT!

A quick guide to the number of shots you should get each week. See the bottom of this page for a full guide, including how much faster it is to accomplish your goal on a shooting machine!

---

​

SHOOTING MACHINE TEAM RATES
Bring the Entire Team! Rent out the Ultimate Shot Lab for your team. You get all 5 shooting machines for a 30 minute period. Call to book a team session today!

Team Rental: $80
Max 15 players
---
Need help enrolling online or setting up an account?
Click here
for instructions.
​
DATES AND TIMES:
VIEW THE SCHEDULE
of when the shooting machines are available (Shooting Machine Sessions are listed under the "Shot Lab" category). We recommend booking in advance to ensure a machine is available when you arrive. Each session lasts 30 minutes. Sessions are per player.
---
A PRACTICE GUIDE - HOW MANY REPS DO YOU NEED EACH WEEK?

---
Terms:
Packages/Sessions/Memberships may not be split or shared between players.
Each player should have their own account and their own membership/session.
One player per machine, per session. No refunds or exchanges allowed.
Packages/memberships will not be put on hold, frozen or extended for any reason.
Walk in sessions may be limited to 15 minutes if another member is waiting
Unlimited Membership Holders: A $5 no show fee will be automatically charged to your account if you reserve a session and do not show up (you can cancel a session via your online account up to 60 minutes before the start time).
---
---
PROGRAM MEMBERSHIP DISCOUNTS
Members of our Affiliate Programs along with a number of local High Schools are eligible for a $100 discount on their annual membership. If you are a member of one of these programs and would like to apply for a discounted membership, please click the button below.

The program discount ends on March 9. Be sure to register before then if you are interested.

Programs currently eligible for the Program Discount include: ​
---
Club Programs

ASA/Prime
MVP Flight
Cal Stars
West Coast Elite

​High School Programs

De La Salle HS
Las Lomas HS
Northgate HS
Don't see your program listed? Contact us today to find out how to become eligible!
---
Each program has a required number of applicants it must reach in order to be eligible for the discount. Please forward this opportunity to your teammates and encourage them to join to ensure you have enough applicants to be eligible for the discount.

​Once we reach the required number of participants from your program, we will contact you to complete your registration.