Ultimate Sports Association Hires Teohn Conner
Will Serve as Director of Basketball Training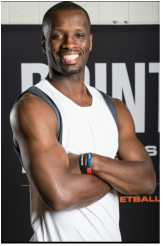 Walnut Creek, Calif. –
The Ultimate Sports Association (USA) has announced the hiring of Teohn Conner as its new Director of Basketball Training.
Teohn joins the Ultimate Sports Association after spending the past eight years as a Senior Basketball Trainer in San Ramon and also freelancing as a skills trainer throughout the Bay Area. Teohn, who was a two-year starter for Saint Mary's College and is as educated off the court as he is on it, touting a Master's Degree in Leadership and also a Bachelor's Degree in Political Science. Both degrees are from Saint Mary's College.
As the Director of Basketball Training, Conner will operate all of USA's player development activities in the John Muir Health Ultimate Fieldhouse, including Individual Skill Development, Small Group Instruction and Team Training. These activities are available for youth, prep, collegiate and professional players.
"We are extremely excited to have Teohn join the Ultimate staff as the Director of Basketball Training at the John Muir Health Ultimate Fieldhouse," said Mike Samuels, CEO of USA. "Teohn brings, not only a wealth of cutting-edge training knowledge and experience with him, but is also a tremendous leader and one of the most energetic trainers I've seen. Every time he leads a session for us, parents gather around to watch in amazement."
Teohn will be taking over select classes for the remainder of September, including all Monday, Thursday, Friday and weekend sessions. He will take over the full slate of sessions starting October 1.
"I couldn't be more excited to become part of the Fieldhouse and serve as the Director of Basketball Training there," Teohn said. "Their mission fits well with my belief that basketball mimics life in most aspects. My goal is to ensure all my clients are successful on and off the court. I believe that anyone who can pay attention and work hard has unlimited potential for success. As a coach/trainer I understand I have an huge influence and impact on each player I come in contact with, and I hold that responsibility in the highest regard."
Teohn replaces Justin Joyner who recently departed for Santa Barbara to pursue a career coaching college basketball.
Teohn as a Player
Teohn played college basketball at Saint Mary's College where he was a two-year starter and averaged over 6 points and 4.5 rebounds per game. He played one season under Coach Dave Bollwinkel, who is now a Scout for the Chicago Bulls and one season under the tutelage of Coach Randy Bennett, who has turned Saint Mary's into one of the winningest programs on the west coast.
Prior to arriving at Saint Mary's Conner attended Midland Junior College where he led the team to a sixth place finish in the national junior college tournament, averaging 19.8 points per game. He attended Ferriday High School in Louisiana where he was named the Metro Player of the Year in his senior season, averaging 18 points, seven rebounds and five assists per game, leading the team to a District Championship.
In addition to his College and Prep experience as a player, Teohn also played professional basketball for 10 years including five seasons in the famed American Basketball Association (ABA) for the East Bay Pitbulls and Bay Area Matrix. Teohn also played in the San Francisco Pro Am for three seasons and in the International Basketball League for one season for the Oakland Slammers. Prior to his pro career in the United States, he played one season in Singapore.
Players interested in training with Coach Teohn and Ultimate Sports at The John Muir Health Ultimate Fieldhouse are welcome to enroll online at:
http://ultimatefieldhouse.com/training.html
What they say About Teohn…
"When I coached Teohn Conner at Saint Mary's College he played with great passion and purpose. In teaching basketball he brings this passion and purpose to his approach to working with young players. Couple this with his outgoing personality and it is evident why he is such a great teacher of the game."
Dave Bollwinkel, Chicago Bulls Scout
"Teohn…does a great job with players of all ages. He cares about every player that hits the gym with him and is always searching for ways to help his players. If you have a chance to work with him, make sure you take advantage of it!
- Drew Hanlen, NBA Skills Coach and Consultant
"Teohn has worked with several of our Cal Stars players and with elite players in our program. As a result, we have seen tremendous growth in these players' skill sets, confidence, and court presence. Teohn is a great trainer for all ages and skill levels."
-Kelly Sopak, Director/Head Coach - Cal Stars Basketball
"Teohn is not only a great trainer and basketball coach, but a great life coach as well. The way he interacts with and teaches the kids is the most valuable gift, we and they receive from him.
- Zahra Goliaei, Son trains with Teohn
About Ultimate Sports Association
The Ultimate Sports Association (USA) is a non profit 501C3 which manages the John Muir Health Ultimate Fieldhouse, in Walnut Creek and is dedicated to youth development, healthy living and social responsibility. Is it our mission to provide our community with programming that allows us to develop our youth to their full potential, socially, physically and mentally as well as a safe and secure environment to execute that programming in. USA manages and operates the Ultimate Fieldhouse including oversight of all programming within it.
About The John Muir Health Ultimate Fieldhouse
The Ultimate Fieldhouse, a 40,000 square foot youth sports facility in Walnut Creek, CA, was founded by three of the Bay Area's most successful youth program directors, who came together to provide Bay Area families with a new portfolio of youth sport educational opportunities. Those founders are Chris Whirlow and Phil Doherty, Directors of MVP Flight Elite and Frank Allocco, Jr., Owner of ASA Basketball. With them, they bring 40+ years of experience in youth sports, which they use to help enhance youth sports education and programming.
Follow Ultimate:
UltimateFieldhouse.com
|
Facebook
|
Twitter
|
Instagram
---