Jr. NBA 3v3 League
---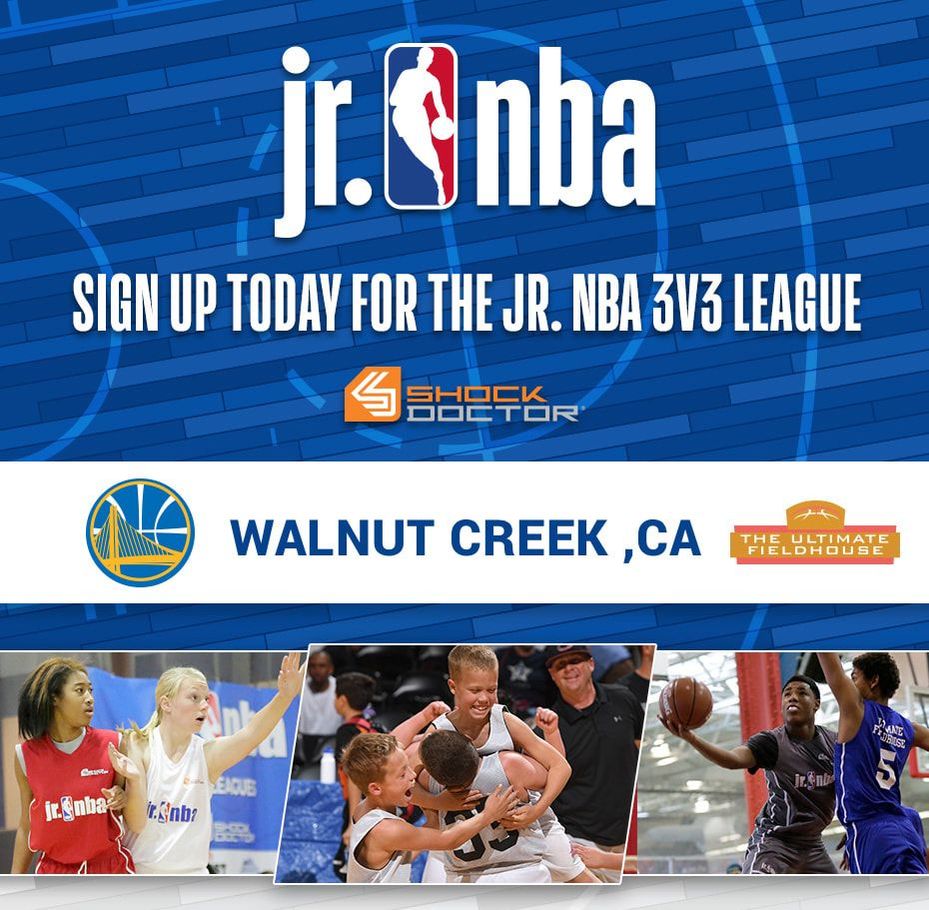 ---
The Jr. NBA, the league's official youth basketball participation program has partnered with the John Muir Health Ultimate Fieldhouse to host the California Regional 3v3 Shock Doctor league. The Jr. NBA shares in the philosophy that 3v3 play can serve as a motivational and educational approach to teaching the game of basketball.

​The Jr. NBA 3v3 Shock Doctor leagues' objective is to impact youth players' long-term development by delivering fun on-court experiences that creates additional opportunities for boys and girls 10-13 to engage in play, foster skill development, and cultivate friendships.
---
League Quickfacts

Registration Open: Now
Registration Closes: January 1
Boys and Girls Divisions:

10 & Under, 11 & Under, 12 & Under, 13 & Under
See below for division birthdate cut-off dates

8-10 Games per team, plus playoffs
Friday Nights (W/possibility of occasional Sunday AM)

First Week of Games: January 12
Regional Playoffs: March 9 (At Ultimate Fieldhouse)
Winners of all divisions of Regional Championship qualify to travel to National Championship

Each player will receive a new uniform, T-shirt, and a Jr. NBA hat
Each team will also be provided with 3 hotel rooms for 2 nights
National Championship Location to be announced

Max 5 players per team
Location: John Muir Health Ultimate Fieldhouse, Walnut Creek
$425 per team

Division Eligibility requirements:
10U - A player cannot turn 11 on or before August 31, 2018
11U - A player cannot turn 12 on or before August 31, 2018
12U - A player cannot turn 13 on or before August 31, 2018
13U - A player cannot turn 14 on or before August 31, 2018


---

CONGRATS TO OUR 2017 8th GIRLS
​NATIONAL CHAMPIONS
FROM THE ULTIMATE FIELDHOUSE

---
---
LEAGUE SCHEDULES, STANDINGS & MORE
---
PLAY

3 v 3

Schedules

• 10U Boys
• 10U Girls
• 11U Boys
• 11U Girls
• 12U Boys
• 12U Girls
• 13U Boys
• 13 U Girls

Standings/Results

Other Links
---
DID YOU KNOW?
The Ultimate Fieldhouse is just one of 10 locations across the Country chosen to host the Jr. NBA 3v3 league? Regional Champions from each site will travel to compete against each other for a national title in March! Other sites include Atlanta, Chicago, New Jersey, Oklahoma, Denver, New York, New Jersey, Utah and Washington.